Sapphire, along with ruby, emerald, and diamond has always been one of the most important precious gemstones. Sapphire is a variety of the corundum gem species whose members also include ruby and fancy coloured sapphires.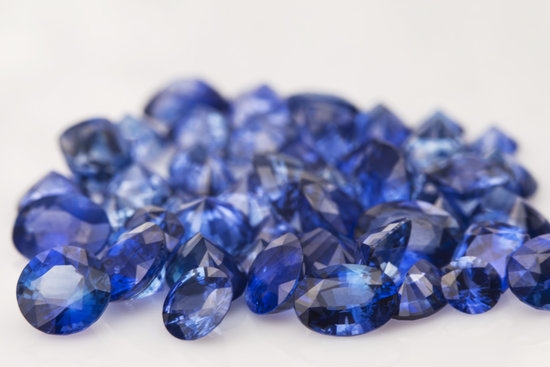 Sapphire, fine gemstone that belongs to the large corundum species
Many people don't know that sapphire comes in all the colours of the rainbow.
All members of the corundum species share a common chemical composition and crystal structure while trace amounts of different chemical elements are responsible for the various colours of the different varieties. Sapphire, when blue, is coloured by small amounts of iron (Fe) or a combination of iron and titanium (Ti). These elements absorb portions of the visible light spectrum producing the blue colour we perceive.
All shades of blue corundum are referred to as simply sapphire and red corundum is called ruby. All other colours are considered fancy coloured sapphires and are named for their particular hues for example: pink sapphire, yellow sapphire, green sapphire etc. The most sought after fancy coloured sapphire is the orangey pink variety known as Padparadscha, which means 'lotus flower' in Sinhalese.
Where can you find the sapphires you need?
Pierres de Charmes carries a vast selection of fine quality sapphires and fancy coloured sapphires. Our collection of well-cut stones includes many different shapes and sizes including calibrated stones.
Sapphire Fact Sheet
Sapphire and all corundum varieties are amongst the few precious gems that possess all the necessary qualities making them ideal for use in jewellery. All corundum varieties display a bright vitreous lustre, have a hardness of 9 on the Mohs scale, and are extremely resistant and stable. Sapphires can also display a six or rarely twelve-rayed star effect.
Fact sheet
Chemical composition

Al2O3

Crystalline system

Trigonal

Cleavage

No cleavage

Refractive index

1.762 - 1.770

Birefringence

0,008-0,009

Specific gravity

3.80 - 4.05

Anisotrope

Blue sapphire shows moderate pleochroism of blue and bluish-green.
Gemmologists can use many instruments to identify sapphire. The iron and titanium present in sapphire's structure produces a diagnostic absorption spectrum that can be seen using a small portable instrument called a spectroscope.
With the microscope, gemmologists can use the presence and appearance of certain inclusions including, crystals, needles and healing fissures, to distinguish natural sapphire from synthetic sapphire.
Producing Countries
The most important sapphire deposits are found in Sri Lanka, Myanmar, and Thailand. Other producing countries include Australia, Cambodia, and the Unites States.
Advanced laboratory testing can help determine the geographic origin of some sapphires. Certain geographic origins such as Kashmir can have a significant impact on the gem's value. It is important to note that the term 'Kashmir' is used in two different ways in the trade. In some contexts it is used to indicate that the origin of the sapphire is the famed deposits of Kashmir known for their exceptional quality gems however, it can also be used as a descriptive term meaning that the blue of a certain sapphire is reminiscent of the rich hues seen in sapphires from Kashmir.
Sapphire crystals are found in both metamorphic and alluvial deposits. Sapphires generally present as six sided bipyramids or prismatic forms. . However, those found in alluvial deposits that have spent extended periods being transported by rivers may appear as water worn pebbles.
Is sapphire treated?
Sapphires are routinely treated to improve their appearance. Different heating temperatures and conditions can produce a vast array of results: dark stones can be lightened, light stones can be darkened, inclusions can be dissolved to improve the clarity, and inclusions can be introduced creating star effects. These treatments are stable and many can also be used to improve the appearance of fancy coloured sapphires.
Sapphires can also be treated using a process called diffusion. Pre-facetted gems are heated in an iron rich environment causing the iron to penetrate into the sapphire making it blue. Due to their size, the iron atoms can only penetrate the surface of the stone. Surface diffusion can also be performed on fancy colour sapphires such as yellow sapphires where nickel is used to enhance the colour. This treatment s not stable because the colour penetration is very shallow and will disappear if the stone is re-polished or re-cut. Gemmologists can easily identify this treatment and Pierres de Charmes does not buy or sell surface diffusion treated sapphires.
There is another diffusion treatment called 'bulk diffusion' primarily used to improve the appearance of fancy coloured sapphires. This treatment uses beryllium (Be), a smaller chemical element that can penetrate the entire stone. Beryllium diffusion can produce many different colours including yellow, orange, and the orangey-pink hues of Padparadscha sapphire. This treatment is more stable than surface diffusion as the colour will not be removed if the stone is re-polished.
The gem trade considers heat treatments acceptable whereas diffusion treatments should always be disclosed at the point of sale.
Sapphire in Jewellery
For centuries, sapphire has been prominently featured in jewellery. It's hardness, stability, and toughness makes it suitable for all types of jewellery. Sapphire's endless shades of blue have made it one of the most popular gems around the world.
Value and Quality Criteria
Colour is the most important criteria for sapphire and although sapphire comes in virtually every imaginable colour it is the saturation or intensity of the colour that will determine quality and value. Pale or overly dark stones will have lower values while more vivid colours will have higher values.
A gem's clarity will also have an impact on price. Most natural sapphires contain inclusions that are visible with magnification. Stones with fewer inclusions will appear brighter and more transparent and will have higher values.
The quality of the cut will have a significant impact on the overall appearance and value of the gem. A well-cut stone respecting the ideal proportions will display more brilliance than a poorly cut stone. Gems are sold by weight and often the lapidary (stone cutter) is faced with the difficult decision of producing a smaller perfectly cut gem or a larger stone of average cut quality. Poorly cut stones often show an effect called a 'window' where it is possible to see right through the gem because the light and the colour are not being optimally reflected back through the table.
Large rough sapphire crystals are very rare and therefore large facetted stones are also rare. This rarity contributes to the higher prices of large high-quality sapphires.
Market trends, personal preferences, and geographic origin can also play a role in the value of sapphire and fancy coloured sapphires.
Fun Fact
Catherine (Kate) Middleton, Duchess of Cambridge has had a huge influence on the current popularity of sapphire. Kate's famous engagement ring featuring a stunning 12 ct sapphire surrounded by 14 diamonds was first worn by Princess Diana when she became engaged to Prince Charles in 1981. Following Diana's death, her ring went to her youngest son Prince Harry while her older son, Prince William, received her Cartier watch. The two Princes agreed to trade these family treasures when Prince William decided to ask Kate Middleton to be his bride. Prince William has spoken about the significance of choosing this ring and how it made him feel as though his Mother was present and a part of his wedding day.
Due to its impressive durability, synthetic sapphire has many industrial uses. It is used in watch making and even as windshields for some aircrafts.
Hughes, R. W. (n.d.). Padparadscha Sapphire • Ownership of Words • Lotus Gemology. Retrieved July 19, 2016, from http://www.lotusgemology.com/index.php/library/articles/132-ownership-of-words-an-essay-on-padparadscha-sapphire
Gem property Chart A [Chart]. (n.d.). In Gemological Institute of America (GIA). 1992
(2010). Cor-1. In Cours de base en gemmologie Gem-A. London.
(2010). Cor-1. In Cours de base en gemmologie Gem-A. London.
Sapphire Gemstone | Sapphire Stone – GIA. (n.d.). Retrieved July 19, 2016, from http://www.gia.edu/sapphire
Engagement ring of Diana, Princess of Wales. (n.d.). Retrieved July 19, 2016, from https://en.wikipedia.org/wiki/Engagement_ring_of_Diana,_Princess_of_Wales
Similar stones