Morganite, traditionally considered as 'semi-precious', is a gem variety of the beryl species that displays a soft peachy pink colour. Sometimes nuanced with orange, morganite owes its soft pastel tones to the presence of manganese (Mn) in its structure.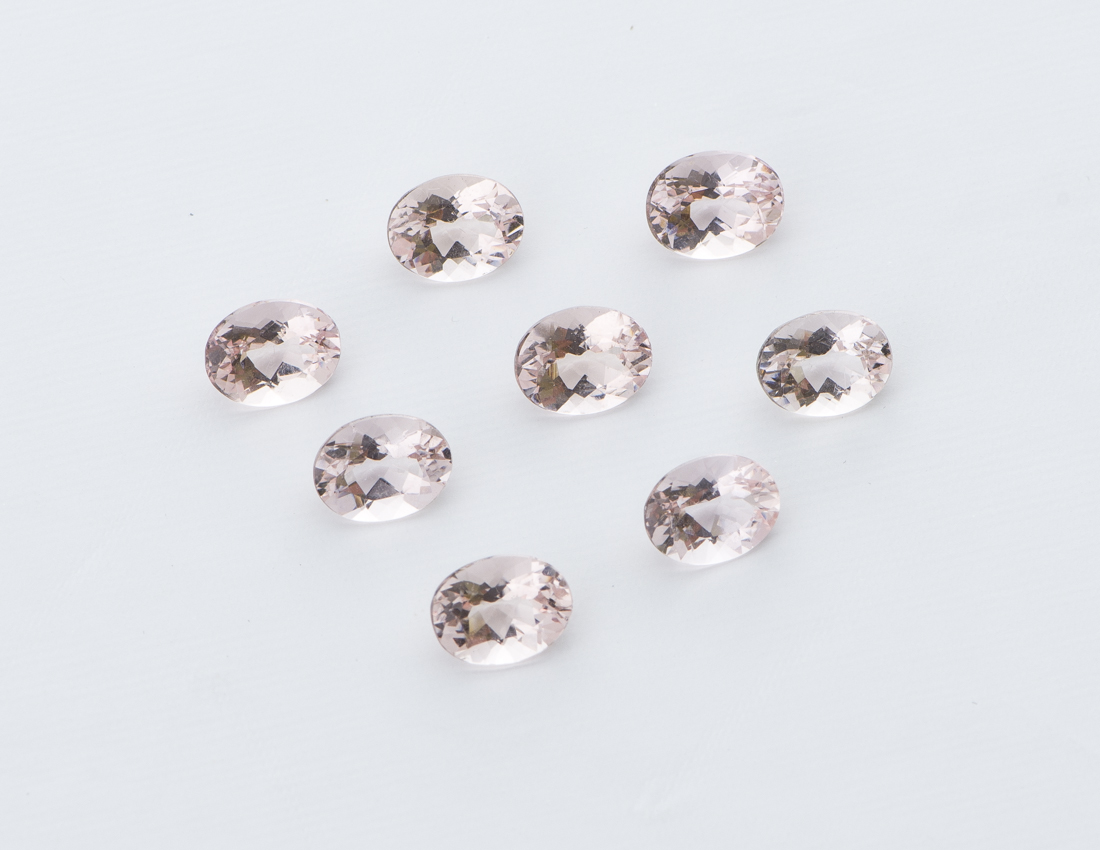 Morganite, a gem variety of the beryl species
Where can you find the morganites you need ?
Pierres de Charmes carries an impressive selection of fine quality morganites in many hues. Our collection of well-cut gems includes many different shapes and sizes including calibrated stones.
Morganite Fact Sheet
As with all varieties of the beryl species, which includes emerald and aquamarine, morganite has a relatively high durability making it a suitable choice for most jewellery. Morganite shows a vitreous lustre and is both stable and resistant with a hardness of 7.5 – 8.0 on the Moh's scale. Like other beryls, morganite can occasionally display a cat's eye or star effect.
Fact sheet
Chemical composition
Be3Al2(SiO3)6
Crystalline system
Hexagonal
Cleavage
Imperfect basal
Refractive index
1,577-1,583
Birefringence
0,003-0,010
Specific gravity

2,65-2,80
Most morganites have excellent clarity and transparency making it well suited for faceting in a variety of shapes. Morganite can contain certain inclusions such as long parallel growth tubes resembling 'rain' that, when seen with magnification, can help identify the stone. Morganite can also be translucent and this material is often cut as cabochons.
Producing Countries
Morganite is found predominantly in Brazil. There are also deposits in Mozambique, Madagascar, Afghanistan, and Pakistan. Morganite occurs in pegmatic deposits as elongated hexagonal crystals.
As with many gems of pegmatic origin, morganite can be found as large well-shaped crystals. Miners in Brazil have unearthed morganite crystals weighing as much as 22 lbs. The largest rough morganite crystal ever found was mined in the state of Maine, USA, and weighed just over 50 lbs.
Is morganite treated ?
Natural untreated morganite showing beautiful colour does exist however, many morganites are irradiated to improve their colour or heat treated to remove any hints of yellow and intensify the pink colour.
Morganite in jewellery
Morganite is a hard enough gem to be set in rings and bracelets and its stability and resistance mean that it will maintain its beauty over time and with wear. Gem connoisseurs appreciate morganite's subtle pink hues and many jewellers know that these colours are beautifully complimented with rose gold settings.
Value and quality criteria
The intensity and saturation of the colour as well as the clarity are the most important quality factors for morganite. As with all gems size will have an impact on value. Richly coloured untreated morganites will have a higher value than stones whose colour is a result of irradiation treatment.
Fun Fact
Renowned mineralogist George Kunz chose the name for this pale pink beryl variety in honor of his friend and fellow gem collector the well-known American banker John Pierpont Morgan.
Gem property Chart A [Chart]. (n.d.). In Gemological Institute of America (GIA). 1992
(2010). Bér-5. In Cours de base en gemmologie Gem-A. London.
Aigue-marine. (n.d.). Retrieved July 19, 2016, from https://fr.wikipedia.org/wiki/Aigue-marine
Morganite Description. (n.d.). Retrieved July 19, 2016, from http://www.gia.edu/morganite-description
Morganite History and Lore. (n.d.). Retrieved July 19, 2016, from http://www.gia.edu/morganite-history-lore
(n.d.). Retrieved July 19, 2016, from https://en.wikipedia.org/wiki/Beryl#Morganite
Similar stones