Quartz is one of the most abundant minerals in the Earth's crust. Quartz is all around us everyday in rocks, sand, and even dust particles. Traditionally considered 'semi-precious', the vast quartz species contains many gem varieties.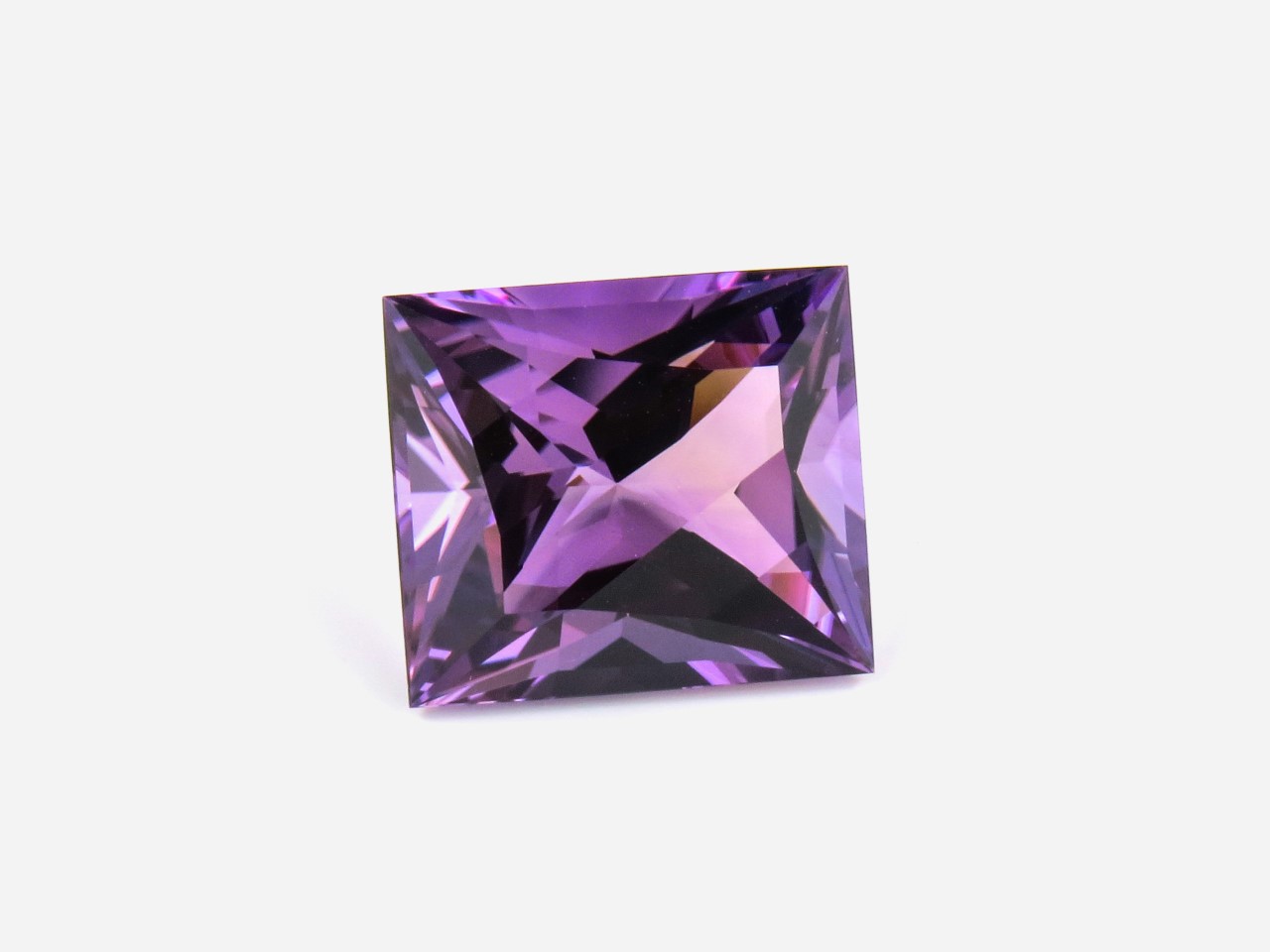 Quartz
Quartz can form as large single crystals (crystalline quartz) or as aggregates of many small crystals (polycrystalline quartz). Quartz is found in a wide range of colours, transparencies, and appearances. Those who believe in the esoteric properties of gems claim that quartz offers a variety of benefits and advantages to those who wear them.
Where can you find the quartz you need ?
Pierres de Charme carries a vast selection of crystalline and polycrystalline quartz. Our fine quality collection includes many different sizes and shapes including calibrated stones.
Crystalline quartz
All quartz is composed of silica (silicon dioxide, SiO2). Crystalline quartz is defined as quartz that forms in large single crystals that can be fashioned or facetted. Quartz crystals can in fact be extremely large occasionally weighing many kilograms with dimensions measuring several meters.
Rock crystal and Included rock crystal
Rock crystal is the colourless variety of crystalline quartz. It is chemically pure quartz with no other chemical elements in its structure. The presence of various other mineral inclusions can cause interesting visual effects and appearances. There are many possible types of inclusions that can add to the beauty of rock crystal. Examples include: Rutilated quartz with golden coloured needle-like inclusions of rutile, strawberry quartz containing red iron rich inclusions, tourmalinated quartz with black tourmaline crystals.
Rock crystal can be treated to change its colour. Irradiation treatment will produce the brown hues of smoky quartz; quench-crackling treatment uses thermal shock to produce fractures in the stone that can then be filled with different coloured dyes for example green to imitate emerald. Important deposits are found in Brazil, China, France, Japan, Madagascar, and Myanmar.
Some crystalline quartz contains fine parallel asbestos inclusions which, when cut as cabochons, will display a cat's eye effect.
Amethyst is the purple variety of quartz. Its pale violet to rich purple colours are due to trace amounts of iron (Fe) in its structure. Natural amethyst often shows colour zoning. It is the birthstone for the month of February.
Amethyst has sometimes been called semi-precious and yet historically it was once considered one of the most prized and valued gemstones. Amethyst became more affordable and accessible in the 19th century when large deposits were discovered in Brazil. Today both high-end jewellery houses and more commercial fashion jewellery manufacturers use amethyst in their creations. Uruguay and Brazil are the major producers of amethyst and deposits are also found in many other countries including Bolivia, India, Madagascar, Namibia, Russia, Sri Lanka, Zambia, and Zimbabwe. Amethyst can be heat treated to produce the yellow colour of citrine or the green colour of prasiolite.
Citrine's yellow, yellowish orange, golden, and reddish colours are caused by the presence of small amounts of iron (Fe) in the gem's structure. Many citrines are in fact amethysts that have been heat-treated. "Madeira citrine' is a name used to refer to citrines with dark orangey colours. Citrine is the birthstone for the month of November and the gemstone for the thirteenth wedding anniversary. Major deposits are found in Brazil and smaller deposits are found in Madagascar, the United States, Argentina, Scotland, Spain, Myanmar, Namibia, and Russia. Citrine can be irradiated to produce amethyst.
Ametrine is a colour-zoned quartz variety that displays both purple and yellow in the same crystal. The main source of ametrine is Bolivia.
Smoky quartz is the light brown to dark greyish brown variety of quartz. Commercially, smoky quartz is often misrepresented as 'smoky topaz'. The brown colours displayed by smoky quartz are often the result of irradiation treatment performed on rock crystal.
The colour of rose quartz can range from pale to deep pink with light to moderate tones. It is usually translucent with a hazy appearance. Its pastel colours have made it a popular choice with jewellers and consumers. Major rose quartz deposits are found in Brazil and Madagascar. Rose quartz can display a star effect when viewed in transmitted light.
Did not find what you were looking for?
Have you thought to search among these stones?
Morganite
Prasiolite is pale green quartz that is naturally quite rare. Most prasiolite on the market is the result of a low-heat treatment performed on amethysts. Brazil is a source of natural commercial quality prasiolite. Prasiolite is sometimes misleadingly marketed as "green amethyst.
Crystalline Quartz Fact Sheet
Crystalline quartz displays a vitreous lustre and has a hardness of 7 on the Mohs scale making it suitable for use in all types of jewellery. Quartz is generally quite affordable and has a good stability and toughness.
Fact sheet
Chemical composition

SiO2

Crystalline system
Trigonal
Cleavage
very difficult
Refractive index
1,544-1,553

Birefringence
0.009

Specific gravity
2,66
Anisotrope
Anisotropic

Quartz is anisotropic and displays moderate pleochroism showing two tones of the body colour. Using a polariscope, gemmologists can identify quartz by its diagnostic optic figure called a 'bull's eye'.
Certain inclusions, when present, help gemmologists distinguish natural quartz from synthetic quartz. Size and colour saturation are the main quality criteria for crystalline quartz. Because quartz crystals often show colour zoning, the colour uniformity of cut stones will also have an impact on value.
Polycrystalline quartz
Quartz can also form as aggregates of small intergrown crystals. These quartz varieties are called "polycrystalline" and the individual crystals can vary in size from visible with the unaided eye to microscopic. Polycrystalline quartz comes in a wide range of colour, patterns, and transparencies. There are also varieties of quartz called pseudomorphs that are the result of quartz (silica) replacing the composition of another mineral or substance while maintaining the original structure.
Chalcedony - Chalcedony is the name given to a large number of fine-grained banded varieties of polycrystalline quartz. Chalcedony is semi-transparent to translucent with the banding being more or less visible depending on the variety. Chalcedony comes in many colours and when used on its own, the term chalcedony generally refers to the whitish-blue variety. The term chalcedony preceded by the colour of the gem is used as the name for varieties that do not have specific names such as pink or colourless.

Carnelian is the orange and reddish variety of chalcedony. The colour is caused by iron oxide. Carnelian has been used in jewellery for centuries and during Roman times it was carved as intaglios and set in rings that were used as seals. Carnelian is found in Brazil, India, Siberia, and Germany. Some carnelian owes its colour to treatments such as dyeing or heating.
Sard displays different tons of brown and its colour, like carnelian, is due to the presence of iron oxide in its structure.
Prase is the name used to describe dark green polycrystalline quartz that is coloured by green mineral inclusions of chlorite.
Chrysoprase is the name given to the pale to vivid green variety of polycrystalline quartz coloured by trace amounts of nickel (Ni) in its structure. Chrysoprase can be translucent to almost opaque. The name is derived from the Greek words for 'green' and 'gold' and it is this bright green colour makes it one of the most prized chalcedonies. Larger rough pieces of chrysoprase can show obvious colour bands. Australia is the main producer of chrysoprase with smaller deposits located in Germany, Poland, Russia, Brazil, and the United States.
Agate is the term used to describe chalcedony varieties that show curved bands of different colours and transparencies. The different layers can be different colours or simply different shades of the same colour. It is relatively easy to alter the colour of agate with dye and that is why, commercially, agates can be found in all imaginable colours. Some agates have been given particular names usually related to their unique appearances.

Fire agate displays a play of colour or iridescence effect due to the presence of thin layers of platy minerals between the layers of chalcedony.
Moss agate contains dark green dendritic mineral inclusions that resemble branches or mossy growth.
Blue-lace agate is pale blue with delicate (lace-like) white banding.

Onyx is a term used commercially to describe any black chalcedony. However the name onyx technically refers to colour banded polycrystalline quartz. The bands in onyx are straight and parallel unlike the curved bands of agate. Onyx generally shows white and black bands however it can show other colours. Brown and white banded material is called sardonyx. A lot of the 'onyx' on the market is in fact chalcedony that has been dyed black.
Jasper refers to a number of different opaque polycrystalline quartz varieties. Jasper can be found in a wide range of colours depending on what elements and inclusions are present. Varieties are named according to colour for example: green jasper, or red jasper. Jasper can be dyed to imitate other stones such as lapis lazuli.
This polycrystalline quartz is a translucent variety containing numerous green coloured mica inclusions that produce the colour and can also cause a spangled effect. This material is often misrepresented as 'jade' and can be dyed to enhance its colour.
Pseudomorph quartz - These varieties occur when quartz replaces another material and adopts the external form (habit) of that original material. The new material is quartz and has all the same properties as other varieties of quartz except that it has taken on the shape of the previous material. The combination of quartz properties and other shapes can produce some interesting and attractive results. For example silicified wood where ancient wood has had its composition replaced by quartz. While its structure still resembles a piece of wood its other properties such as its density (now 2.60 to 2.65 instead of 1.00) and lustre (now vitreous) have been altered due to the internal replacement.

Tiger's eye is produced when quartz replaces the internal composition of blue crocidolite asbestos. The new material maintains the fibrous structure and appearance of crocidolite but now has the physical and optical properties of quartz such as an elevated hardness and a vitreous lustre. The fibrous structure produces a silky appearance resembling a cat's eye effect. Tiger's eye displays brown and gold hues bit can be treated to produce other colours.
Silicified wood, also known as petrified wood, is created when silica (quartz) replaces the organic material of wood while maintaining the wood's structure. Silicified wood shows all the outward appearances of wood including cells and concentric growth rings. The woody structure combined with the lustre and hardness of quartz produces a durable ornamental gem. The United States is a major source of silicified wood.
Polycrystalline quartz fact sheet
Polycrystalline quartz is tough and stable with a hardness of 6 on the Mohs scale making it suitable for all types of jewellery. Considering its vitreous lustre and endless array of colours, polycrystalline quartz is a very affordable gemstone.
Fact sheet
Chemical composition
SiO2
Crystalline system
Trigonal
Cleavage
very difficult
Refractive index
1,544-1,553
Birefringence
0,009
Specific gravity

2,66

Anisotropic
Anisotropic
Size, colour saturation, and whether or not the stone has been treated will all have significant impact on the value of polycrystalline quartz.
(2010). Qua-3. In Cours de base en gemmologie Gem-A. London.
(2010). Qua-3. In Cours de base en gemmologie Gem-A. London.
(2010). Qua-7. In Cours de base en gemmologie Gem-A. London.
Schumann, W., Georges-Catroux, F., & Poirot, J. (2014). Citrine. In Guide des pierres précieuses: Pierres fines et ornementales: 1900 échantillons photographies (p. 136). Paris: Delachaux et Niestlé.
Citrine Gemstone | Natural Citrine Stone - GIA. (n.d.). Retrieved July 25, 2016, from http://www.gia.edu/citrine-overview
Schumann, W., Georges-Catroux, F., & Poirot, J. (2014). Citrine. In Guide des pierres précieuses: Pierres fines et ornementales: 1900 échantillons photographies (p. 136). Paris: Delachaux et Niestlé.
Gem property Chart A [Chart]. (n.d.). In Gemological Institute of America (GIA). 1992
(2010). Qua-2. In Cours de base en gemmologie Gem-A. London.
(2010). Qua-8. In Cours de base en gemmologie Gem-A. London.
Carnelian. (n.d.). Retrieved July 27, 2016, from https://en.wikipedia.org/wiki/Carnelian
Schumann, W. (2000). Guide des pierres précieuses: Pierres fines et ornementales. Lausanne: Delachaux et Niestlé.p. 122
Chrysoprase. (n.d.). Retrieved July 27, 2016, from https://en.wikipedia.org/wiki/Chrysoprase
Onyx. (n.d.). Retrieved July 27, 2016, from https://en.wikipedia.org/wiki/Onyx
(2010). Qua-9. In Cours de base en gemmologie Gem-A. London.
Specific gravity. (n.d.). Retrieved July 27, 2016, from https://en.wikipedia.org/wiki/Specific_gravity
King, H. (n.d.). What is Petrified Wood? How Does it Form? Retrieved July 27, 2016, from http://geology.com/stories/13/petrified-wood/
Gem property Chart A [Chart]. (n.d.). In Gemological Institute of America (GIA). 1992