Aquamarine, traditionally considered as 'semi-precious', is a fine gemstone that belongs to the large beryl species* whose other varieties include emerald and morganite. The name aquamarine, from the Latin Aqua marinaen meaning 'water of the sea' perfectly describes the clear blue hues sometimes nuanced with green that are seen in the finest aquamarines. Aquamarine owes its blue tones to trace amounts of iron in its structure.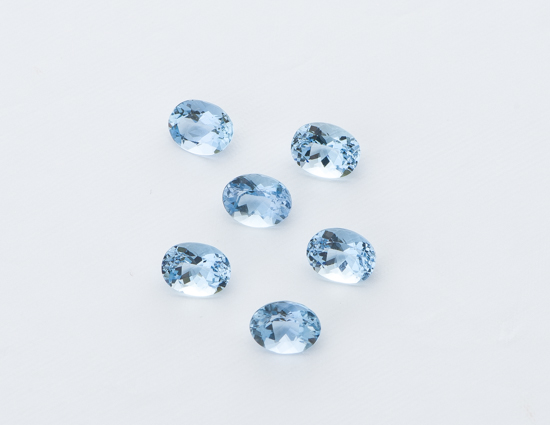 Aquamarine, fine gemstone that belongs to the large beryl species*
Where can you find the aquamarines you need?
Pierres de Charmes carries a vast selection of fine quality aquamarines. Our collection of well-cut stones includes many different shapes and sizes including calibrated stones.
Aquamarine Fact Sheet
As with most beryls, aquamarine's durability makes it a well-suited gem for use in jewellery. It is resistant and stable with a hardness of 7.5 on the Moh's scale and a vitreous lustre.
Aquamarine and other beryls can occasionally show optical phenomena such as cat's eye or star effects.
Fact sheet
Chemical composition
Be3Al2(SiO3)6
Crystalline system
Hexagonal
Cleavage
Imperfect basal
Refractive index
1,577-1,583
Birefringence
0,003-0,010
Specific gravity
2.65 à 2.80
Anisotrope
Displays moderate dichroism of pale blue and green
Gemmologists can use many different instruments to identify aquamarine including the microscope to observe typical inclusions especially long parallel growth tubes that resemble 'rain' within the gem.
In its rough, uncut state aquamarine is usually found as long hexagonally shaped prismatic crystals. When clean and transparent these crystals can produce large and inclusion-free cut gems. More included and translucent crystals can be cut as cabochons.
Producing Countries
Brazil is the primary source of gem quality aquamarine. However, deposits are also found in Russia, Madagascar, Myanmar, Nigeria, Kenya, Sri Lanka, Zimbabwe, Zambia, Namibia, and the United States.
Aquamarine crystals often form in pegmatic deposits producing large well-shaped crystals.
Is aquamarine treated ?
Natural saturated blue aquamarines do exist however; aquamarines with hints of green may be treated to eliminate the greenish tint producing a more pure and intense blue colour. The resulting colour is stable.
Aquamarine in jewellery
Aquamarine has long been a popular choice amongst jewellers and their customers. The hardness and tenacity of aquamarine make it an excellent choice for rings and bracelets and its stability allows it maintain its beauty over time.
Since 1912 aquamarine has been the birthstone for the month of March.
Value and quality criteria
As with all gems, carat weight (size) is an important value factor and aquamarines can be found in many sizes including impressive large stones. With coloured gems the colour is paramount and quality aquamarines show saturated clear blue hues. Clarity will also play a role in determining quality and many aquamarines have few or no inclusions. The quality of the cut will also have an impact on the stones appearance and well-cut stones will display more brilliance.
Fun Fact
The Dom Pedro Aquamarine is the largest cut aquamarine. It is a carved and facetted obelisk that stands 35 cm high and weighs 10 363ct (approximately 4,6 pounds). It was donated to the Smithsonian National Museum of Natural History in Washington where it is part of the permanent collection and is viewed by thousands of visitors every year.
*In gemmology, as in nature, a species refers to a group with related members who share common features. In gemmology, the varieties or members of a species, share a common chemical composition of atoms organized in identical repeating patterns. In most cases the individual varieties are differentiated by the presence of small amounts of a chemical element that causes the particular colours associated with the different varieties. Gemmologists can use a small hand-held instrument called the Chelsea filter to help them distinguish between similar looking greenish aquamarines and pale green emeralds. The two gems will show different reactions due to their different colouring elements: iron in aquamarine and chromium in emerald.
Gem property Chart A [Chart]. (n.d.). In Gemological Institute of America (GIA). 1992
Bér-5. In Cours de base engemmologie Gem-A. London, 2010
Aigue-marine. (n.d.). Retrieved July 19, 2016, from https://fr.wikipedia.org/wiki/Aigue-marine
What Makes Spinel Special. (n.d.). Retrieved July 19, 2016, from http://www.jewelers.org/ja/marketing/resources/marketing-news/590-what-makes-spinel-special
Similar stones